An
Innovative
Scale Ruler
Ideal for Working With Plans
"Rapid Rules are ingeniously simple! It's unique shape instantly indentifies the scale edge. Simply ROTATE the ROD to locate the needed scale. Once located, it's retained...ready to use, every time you pick it up! It feels like a quality instrument."
How it Works…Simply Rotate the Rod!
1 scale edge – 6 scales on rod
All scales read right to left
Read only 1 scale at a time
Why That's Great…
No searching for the right egde to use
No backward reading scales
No double reading scales
Compare:
Triangle scales – six edges
Flat bevel scales – 4 edges
Flip-flop and turn – every time

IMPRESSIVE ON ANY DESK
MAKE YOUR NEXT BUSINESS GIFT MORE PRODUCTIVE
Choose a gift that helps your customers work easiar and faster!
Give a gift that reflects your high standards for quality and usefullness!
Offer a unique, innovative tool that sets you apart from your competition!
Puts your name where it matters most… on your custermer's desk and on the job!
Has long-term value that will remind custormers every working day for many years to come!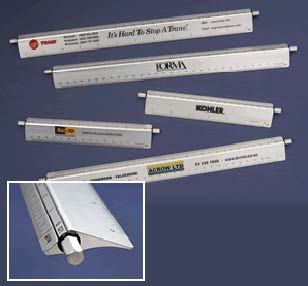 THE IDEAL BUSINESS GIFT
for everyone who uses
plans or drawings